Hello.
Welcome to our Eager Zebra Games Page.
Like you, people from all over the world come to play our challenging and exciting games online.
We invite you to take a few minutes and play now for fun and a chance to win real prizes
.

Just click on any game link to get started and "good luck".
Grandmaster Poker Game
Blink and they'll know your hand.


Play Grand Master Poker
The Gold Streak Game
A survey-answer based game that's really fun


Play Gold Streak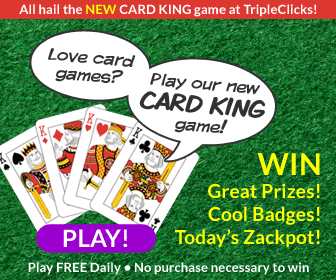 Card King Game
Think you're good, Here's your chance to prove it.


Play the Card King Game
Time Machine Game:
Predict the answer to a coming event and win the Time Machine Zackpot.


Play Time Machine
Knockout Trivia Game:
Try to outlast fellow players in answering trivia questions to win a share of the KO Trivia Zackpot.


Play Knockout Trivia
Pick The Price Game:
Predict the final price of a Pricebenders auction and win a share of the PTP Daily Zackpot.


Play Pick the Price
---
---
Universal Marketing Group, LLC
Copyright © 2002 - 2017, All Rights Reserved Worldwide.